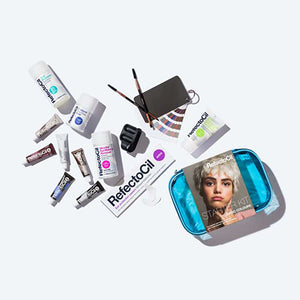 Basic Colors Starter Tint Kit
Starter kit for tinting eyelashes and brows. The kit includes all you need for long-lasting, beautiful color.

RefectoCil eyelash and eyebrow tint creates an intensive and perfect color that lasts up to 6 - 8 weeks.
Safe and extremely reliable permanent tint for professional use.
Instructions:
The package includes:
6 Tint colors 15 ml / color (1, 2, 3, 3.1, 1.1, 4)
Oxidant Liquid 3% 100 ml
Tint Remover 100 ml
Eye Makeup Remover 100ml
Application Brushes Soft 5 pcs
Eye Protection Papers Extra 80 pcs
Skin Protection Cream 75 ml
Artist Palette
Color map
Instructional DVD – D/ GB/ ES/ RUS/ AR
Benefits:
Intensive color for eyelashes and eyebrows
Long-lasting finish 6 – 8 weeks
Safe and reliable
Extremely pigment rich formula
Easy to use
For use by qualified professionals only.
A world leading brand RefectoCil is today prominently represented in more than 50 countries. RefectoCil eyelash and eyebrow tints have been proven and recognized due to millions of successful applications as the leading product for more than 60 years.
The wide assortment covers 10 colors as well as many practical accessories for the user, thereby making the RefectoCil product range the perfect system for Professional eyelash and eyebrow tinting.
RefectoCil eyelash and eyebrow tint lasts up to 6 – 8 weeks and is perfectly smudge-free and waterproof.
Made in Austria.
Adding product to your cart