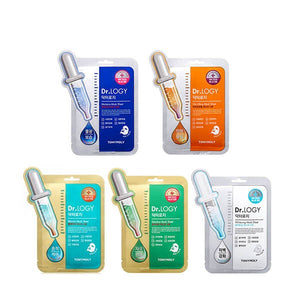 TONY MOLY Dr.Logy Sheet Masks
Dealing with skin troubles? Dr.LOGY sheet masks give your skin professional care with five different effective treatments. So whether you're dealing with dull, dehydrated skin or acne-prone aging skin, we've got just what the doctor ordered!
Moisture Mask- Combines the ultra-moisturizing benefits of Hyaluronic Acid and Ceramides to give parched skin a tall drink of hydration. The combination of mineral-rich sea salt and deep seawater not only provides additional hydration but also beneficial nutrients for a healthy complexion.
Brightening Mask- Transform dull, lifeless skin with a potent combination of Vitamin B3 and Vitamin Fruit Extract for skin that looks luminously radiant. Lemon, Orange, Kiwi, and Grapefruit Extracts also work to bring out that inner glow.
Blemish Mask- Betaine Salicylate and Glycolic Acid, an effective AHA, helps fade acne scars and blemishes while also calming down and soothing irritated skin for a beautifully blemish-free complexion.
Vita Lifting Mask- Improve skin-elasticity with a powerful combination of Collagen and 4 types of vitamins, making skin appear firm, youthful, and supple.
Sensitive Mask- Chamomile and Lavender Extracts calms even the most sensitive, easily-irritated skin while our Herb Complex of 8 natural plant extracts provides additional soothing benefits and hydration.
size: 200 ml
Adding product to your cart